For
FREE
Expert Advice
or Assistance Call Any of Our Offices
and Our Floor Painting Specialists
will be Pleased to Help
Scotland :
01506 657996
Newcastle :
0191 419 2530
Chorley :
01257 266696
Solvent-Free Epoxy Resin Floor Paints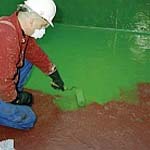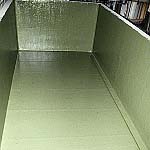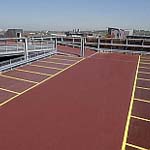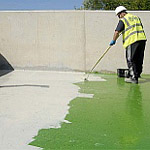 High performance, solvent free epoxy resin floor paints are used to provide high build, durable floor paint coatings in all sorts of flooring applications where their high wear and abrasion and / or their good to excellent chemical resistance is required.
Solvent-free epoxy resin floor paints are undoubtedly the highest performance and most durable of all floor paints. These are the ones that are predominently used by professional, specialist floor painting contractors.
However with care and by following the guidelines on their individual Product Data Sheets, they can also be used for many other commercial and industrial floor painting projects, with the same high performance requirements.
We can always assist General Builders and competent maintenace teams or DIY customers to do this where appropriate and sensible to do so, by providing additional support and advice throughout the project from our flooring specialists.
Solvent free epoxy floor paints are suitable to produce flooring systems to accomodate the use by and exposure to, all types of foot and vehicular traffic - again in accordance with the recommendations and limitations given on their individual Product Data Sheets.
Our floor painting specialists will be happy to talk you through their application - Or if you prefer, to put you in touch with local floor painting specialists who can do the work for you - usually on larger projects this is the most efficient and cost effective way.