For
FREE
Expert Advice
or Assistance Call Any of Our Offices
and Our Floor Painting Specialists
will be Pleased to Help
Scotland :
01506 657996
Newcastle :
0191 419 2530
Chorley :
01257 266696
Water Based Epoxy Resin Floor Paints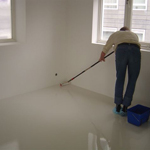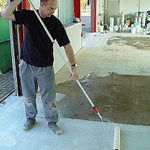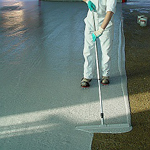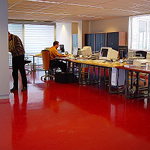 2 part water dispersed (sometimes called 'water based')epoxy resin floor paints are ideal for producing a tough, long-lasting and good looking floor that is safe to apply in a great many domestic and commercial / industrial applications, particularly including garage floors, workshops and storage units, plus all sorts of light industrial factory production and assembly area floors or warehouse floors etc.
Due to their 2 components chemical reaction hardening, this type of epoxy resin products give a tough, hard seal on the floor that is suitable for pedestrian and light vehicular traffic - including forklifts and pallet trucks etc.
IDEAL FOR COMMERCIAL AND DOMESTIC GARAGE FLOORS
Water based epoxy resin floor paints are definitely the best and easiest solution for durable long-lasting floor painting of domestic garage floors.
Additional slip resistance can be increased with the high performance grades of water based epoxy resin floor paints (such as those below produced by Remmers and Sika), by the addition of Remmers ADD 250 polymer beads, or fine graded, kiln dried, quartz sand into the mix.
As they have no solvents or voc's, all of our water based epoxy floor paints can safely be used adjacent to, or in occupied areas and they are suitable for use by professional floor painting contractors and general builders, plus competent DIY customers also.